It is important to cater to all types when cooking, and you never know when you might have to learn to cook something new. So this week in our regular feature 'Recipe of the Week', Life Retreat turned to the vegan world! These Veggie Wraps are suitable for vegetarians and vegans, and what's more, they are delicious!   
 Fry's Veggie Wraps
A wrap is a sort of sandwich made of a soft flatbread rolled around a filling. This tasty wrap recipe uses substitute meat strips (mock beef or mock chicken), making an ideal choice for those that have pledged to Meat Free Mondays.
Ingredients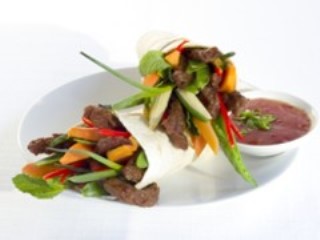 4 wraps
1 box of Fry's Vegetarian chunky strips or chicken-style strips
¼ cup sweet chilli sauce
½ washed and sliced iceberg lettuce
½ English cucumber, sliced into thin strips
1 peeled and sliced avocado
1 carrot, peeled and sliced into strips
1 red pepper, de-pipped and sliced thinly
Sauce to spread on your wrap (e.g. pesto or hummus, and sweet chilli sauce)
Cooking Instructions
Fry the vegetarian strips in a little oil for 8 minutes. After 5 minutes add the sweet chilli sauce.
Warm the wraps as per the packet instructions and spread with the sauce of your choice.
Place the lettuce, cucumber strips, avocado, carrots and red pepper on the wrap and top with the strips, roll, cut and enjoy.
Wrap can be replaced with a large lettuce leaf, if preferred.
Serves 4 people
Recipe provided by VeganSA
Tags: Recipe of the Week, Vegan, Vegetarian, Wraps