For too long, people who don't drink wine for health or religious reasons, have been offered a choice of water or an inferior fizzy drink.
Most of the grape juices on the market are made from blends and concentrates, but Zari is in a class of its own.
ZARI is made from the muscat seedless cultivar, it is alcohol free, rich in nutrition and anti-oxidants and contains no artificial colorants, or added sugar," Founder, Dantu says. It is the perfect drink when alcohol is not an option, especially for health or religious reasons.
Their flagship product, ZARI Bubbly has proved to be a hit with the trendy and fashionable non-drinkers at weddings and high days such as Valentine's Day. It is great on its own or mixed into summer cocktails. ZARI Bubbly comes in 750ml Red and White; the 750ml Screw cap and 330ml Cans.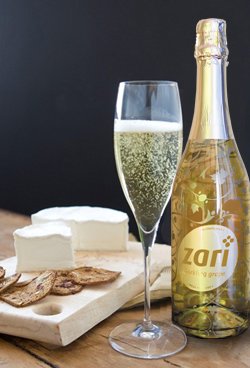 ZARI is a Mughal word meaning the fine gold or silver wire thread woven into traditional Indian and Pakistani silk – the name is synonymous with quality, sophistication and style.
The ZARI bottle is designed elegantly with embossed vines teasing with the twining's, "threads" resembling a grape-vine encircling the bottle in gold or silver to enhance the sensory experience. The exquisite muscat grape juice penetrates through the clear bottle. The sensual quality complements the contemporary logo. ZARI is unique, it can be distinguished from any other grape juice and its presentation sets it apart from its competitors.
The brand will not be confused with a wine label. It is a premier product for the distinguished palate.
ZARI was introduced to the South African market since 2011 – top hotels, restaurants, retailers and supermarkets. In December 2014 the first shipment was supplied to a hyper-retailer in Dubai.
It has been successfully test marketed in South Africa and abroad, through trade shows in London, Dubai, Moscow, as well as visiting trade delegations to Cape Town.
The Flavours:
Red: lovely red colour, floral and grapey, muscat aromas, semi-sweet on the palate, no mousse, little bubbles.
White: deep yellow-golden colour, upfront muscat aroma, crisp, green apples
Zari Background:
African Equations CC is a black, women-owned company owned by Shareen Parker and Silvana Dantu, based in Cape Town. It has been in operation for 17 years focusing on Tourism Development, Marketing, Media, Research and Project Management. AE has managed significant campaigns and projects for the private sector, all tiers of government, trade unions and NGO's, which included: The Tourism Enterprise Programme for the Business Trust (10 years); conceptualising and setting up the Green Point Stadium Visitor's Centre to promote 2010 FIFA World Cup; Cape Town Fashion Festival to promote "Proudly SA" clothing design and manufacturing.
Prior to 1998 the co-owners of the company were members of the Task Team responsible for setting up the Robben Island Museum, focused on developing integrated tourism and marketing strategies, policies and regulations to transform the Island from a place of incarceration to a symbol of hope.
They have participated in trade-shows in Indonesia, Moscow, Dubai, London and Congo-Brazzaville and several domestic shows. The positive responses to the ZARI™ taste, branding, quality and price affirmed the economic appeal and export potential. We sell to hotels, restaurants, retailers and we export to Dubai.
Where to Purchase it:
ZARI Sparkling Grape is available at selected Pick n Pay and SPAR stores, hotels and specialty stores. It can be ordered directly from zari@africanequations.co.za or contact Shareen Parker at 072 9056727
Tags: bubbly, champagne, grape juice, non-alcoholic, zari, zari sparkling grape